Commercial Interior Design goes beyond aesthetics; it's the tangible representation of your corporate brand brought to life. At Studio Forma, our specialty lies in translating your brand identity into a physical space that truly reflects your values.  Collaborating with organizations, we have a passion for expressing culture through innovative Interior Design solutions. Our unique ability to introduce the unexpected sets us apart as the preferred partner for achieving a wow factor that's tailored to your individuality.
Understanding the profound impact of a creative and efficient workspace, Studio Forma is committed to energizing you, your team, and your clients each day you step through the doors. We recognize that an organized and well-designed work environment is not just a backdrop but a catalyst for inspiring creativity, enhancing productivity, and fostering problem-solving. In essence, Studio Forma is your partner in crafting an Interior Design that transforms your workspace into a source of pride and enjoyment.
Explore the Studio Forma difference in Interior Design, where we seamlessly merge functionality with aesthetics to create commercial spaces that stand out and speak volumes about your brand. From office design to selecting the perfect office furniture, we are dedicated to ensuring your workspace reflects the essence of your organization with style and substance. We are your Interior Design partners.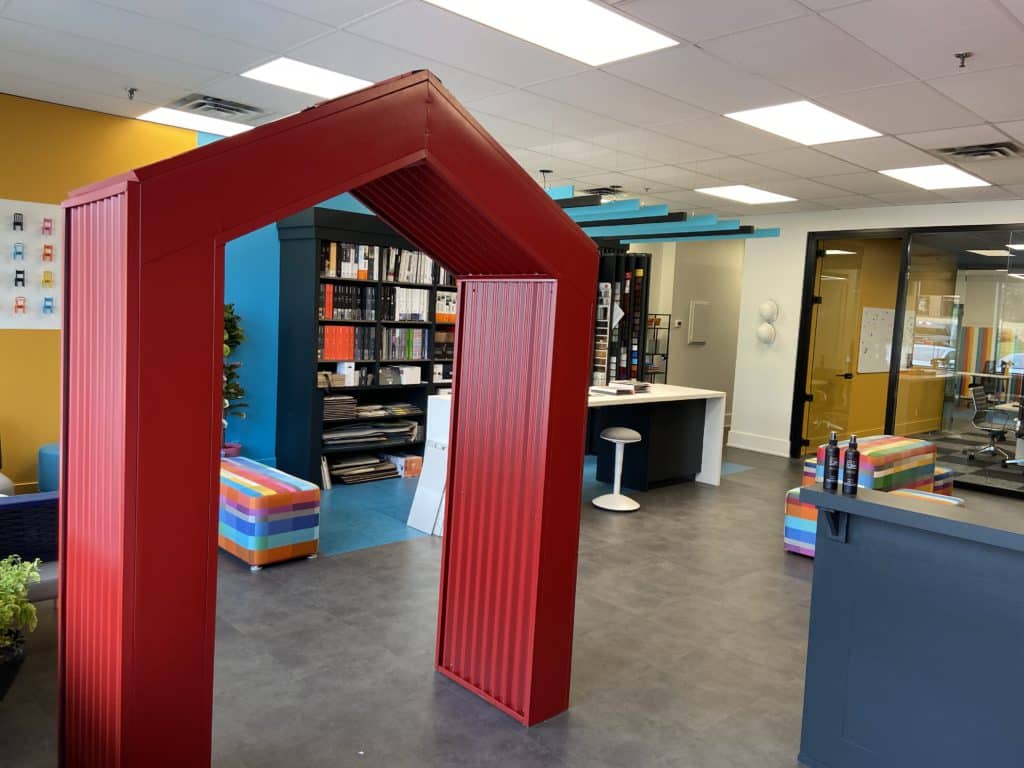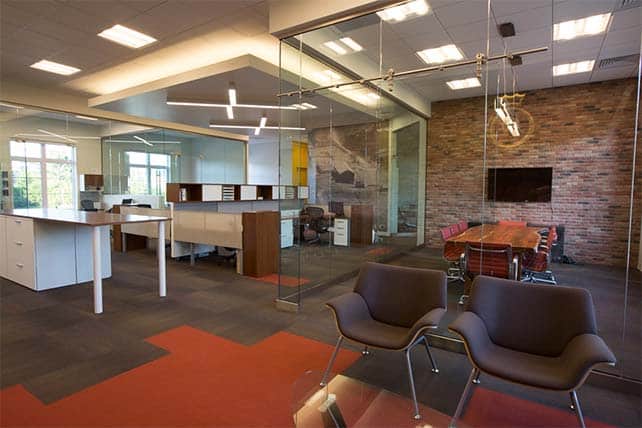 Every business is unique in its interior design needs, and we can help you to exactly the degree you require. Brand new space to build anyway you want? Existing office needs an overhaul? Looking to rethink and modernize within your space? Or do you just need accurate floor plans so that you can make your own design? We have packages to cover all of these options or we can meet with you and create a customized plan that works with your ideas.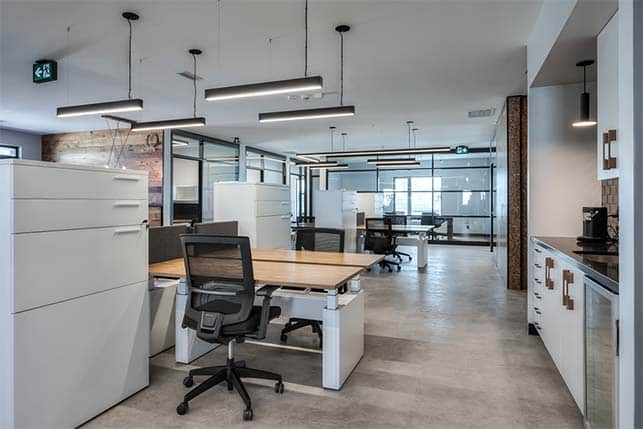 Office furniture has evolved beyond mere function in today's dynamic work environment. It's not just about keeping your team productive; it also needs to be ergonomic and comfortable. The good news is that there is an array of office products designed to meet these needs and more, bringing a whole new level of style to your interior office design. Each piece is carefully chosen to enhance productivity, well-being, and the overall visual appeal of your workspace.
Ready to Discuss Your Project?
Stinson ITS underwent a remarkable transformation in this space, turning it from a dark, compartmentalized, dated area into a modern open environment that embodies their brand essence.  To enhance the sense of openness while maintaining privacy, we strategically implemented different heights and utilized hanging acoustic partitions. 
Curved soft seating and numerous breakout areas on both the main and upper levels contribute to a dynamic, collaborative, and flexible workspace. 
At the intersection of interior design, office design, and the thoughtful selection of office furniture, the Stinson ITS project exemplifies our commitment to transforming spaces into dynamic and visually captivating reflections of the brand's identity.
Treefrog, a dynamic marketing agency, undertook an extensive search for the ideal space to house its growing business. This quest culminated in the discovery of a unique venue—a former car dealership transformed into a bright and airy environment. The design of the space, a harmonious blend of interior design, office design, and corporate design, seamlessly accommodates both functionality and the vibrant spirit that defines the company.
Custom millwork takes centre stage in this transformation, strategically creating separation within the space while preserving its open and inviting atmosphere. The inclusion of unique light fixtures enhances the environment, fostering a sense of creativity and innovation. True to their corporate identity, the signature green hue of Treefrog infuses a fresh and dynamic energy into the space, reflecting the ongoing evolution of the company. This project stands as a testament to the successful convergence of interior design elements, office functionality, and corporate aesthetics in a space that is as unique as the agency it houses.
At Versapay, nestled in a workspace with stunning views of downtown Toronto, our approach was to seamlessly integrate interior design, office design, and corporate design principles. Focused on maximizing both the panoramic views and workspace functionality, we harnessed the character of existing architectural details. The incorporation of the brand's angular lines and vibrant colour palette became a central theme, enhancing the overall aesthetic.
Striking a balance between attractiveness and functionality, acoustic features positioned above the boardroom table and within brightly coloured dividers contribute to a dynamic and engaging environment. Every aspect of the design, from the communal central lunchroom to the privacy-enhancing furniture phone booths, is meticulously crafted to meet Versapay's diverse needs. This project exemplifies our commitment to creating spaces that seamlessly blend aesthetics with functionality, reflecting the unique identity and corporate values of the companies we partner with.
The Top 6 must haves for your office space
Here's what we have deemed the top 6 must-haves to increase efficiency, productivity, creativity, collaboration and retention in team members.
What Our Clients Are Saying
Don't know where to start! Stephanie and her team are shinning 5 rock stars. First thing I am a business owner in Newmarket which has been closed due COViD since March of 2020. When the opportunity came up to reopen we needed to re-brand and renovate. Studio Forma was super easy to connect with, plus fast and efficient responding to my email inquiry within 24 hours. Stephanie walked me through the whole process in her initial consultation. After that when I chose to hire her to rebrand & design new look and renovations of our location which she is very familiar with Newmarket business section. Her whole team was extremely friendly but most importantly super efficient, professional and passionate about their work. Plus extremely supportive of a small & local business. Enjoyed working with them all, completely stress free! Best money ever spent. Not only did they listen to me they took all my ideas into consideration and created me a fabulous new design! Stephanie & her team design a perfect new concept & brand. I would not hesitate to use Studio Forma again.
We hired your company on a recommendation from one of our existing clients. I contacted you as I wanted to update the look of our office to be more efficient, bright and more functional. We also wanted to make room for additional staff. Since we operate in an old building in Newmarket, I knew any design or construction could become challenging. Right from our first call, you patiently guided our team through the design process, the tendering process as well as the construction phase. Your attention to detail was amazing. You had patience as well as determination when it came to negotiating changes in the design with the contractors. Since we made a last minute decision to change the old boiler for a new forced-air gas furnace including air conditioning, the ducting which was not in the original design had to be incorporated and your ability to compromise between design and functionality was excellent. I also appreciated you were budget conscious, ensuring you would stay within the allocated budget. You went through great efforts to source supplies at a reduced price. You have designed a beautiful office for our staff. The office is bright, professional, functional and you also incorporated lots of branding into it. A big heartfelt thank you for all of your work. Both of you really became my "dream team". I would highly recommend your company.
Studio Forma has the unique ability to reach into the nebulous place where function meets beauty, capture excellence and then deliver quickly and on time. Resilient and industrious, they make the impossible happen, repeatedly. They have a way of getting client satisfaction where it looked to be impossible – all the while making sure that they get what they need, not just what they think they want
I am now organized! Studio Forma helped me to rearrange my classroom to make the space more efficient and welcoming. Just by changing around some furniture and a little bit of de-cluttering, everything now has a spot and there is so much more flow to the room. Having an organized environment for a classroom is a necessary component to student learning and success and Stephanie helped me to achieve this in my room. She even created a "green space" in the classroom, bringing the outside, in! I am very thankful for the knowledgeable staff at Studio Forma and am grateful for their ideas and help with the transformation of my learning environment! Thanks, Studio Forma! My students thank you as well!
At IMT, I work with designers on behalf of their clients all the time and Stephanie and the team are creative, attentive and have a great eye for design within a clients budget. Happy to work with them anytime and you will be too! Go Studio Forma
Studio Forma have fantastic creative design ideas. They listen and work with you to create an environment that enhances your business environment and culture. Thanks for your help Studio Forma – Keep the good ideas rolling!
Working on a design project with Stephanie from Studio Forma was a pure pleasure. She possesses a very rare combination of talent, experience and ambition, that is making her to stand-out in her field. Her exceptional design abilities and passion for design make her an outstanding professional.
I worked in an office designed and implemented by Studio Forma and it was a joy to spend my days in a space that was so well thought out. They considered not only how to best use the existing building for our needs, but also the human realities of the people who spent our days there. It was designed in alignment with the company's brand and persona and it was beautifully done with lots of light and clean lines and creative ideas to make it unique.