Commercial Interior Design is the ultimate manifestation of your corporate brand in real life and achieving that is our specialty. We love to work with organizations to express their culture through their physical space. Our ability to add the unexpected makes us your go-to partner for achieving a wow factor that's unique to you.
At Studio Forma, we understand that a creative, efficient workspace energizes you, your team, and your clients every day as you come through the doors. An organized and well-designed work environment inspires creativity, productivity, and problem solving. In short, we'll help you create a workspace you can be proud of and enjoy.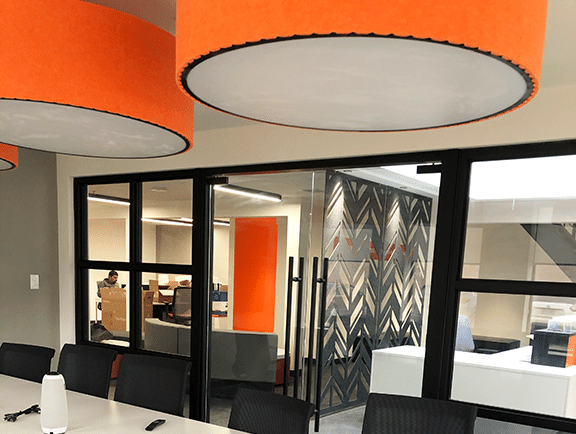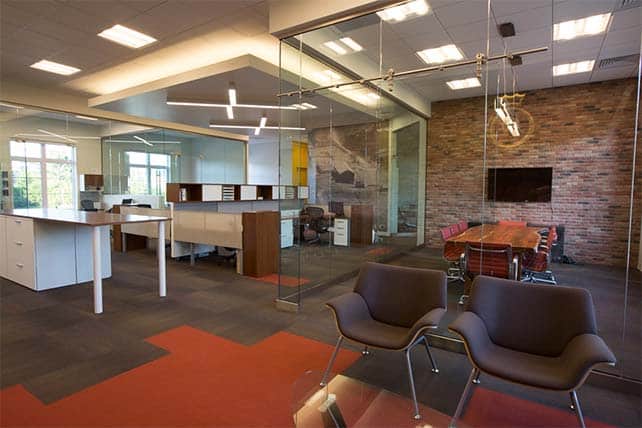 Every business is unique in its interior design needs, and we can help you to exactly the degree you require. Brand new space to build anyway you want? Existing office needs an overhaul? Looking to rethink and modernize within your space? Or do you just need accurate floor plans so that you can make your own design? We have packages to cover all of these options or we can meet with you and create a customized plan that works with your ideas.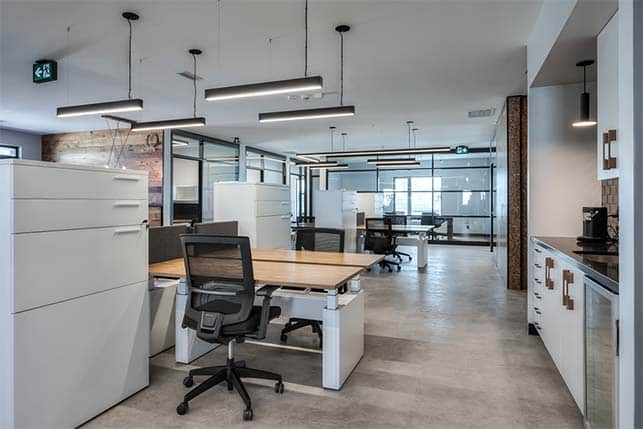 Furniture is about so much more than function these days. Not only does it need to keep your team productive, it needs to be ergonomic, comfortable, and it might even need to provide barriers for Covid-19 protocols. The good news is, there are so many products that do all of this and more, adding a whole new level of style to your office.
Ready to Discuss Your Project?
Stinson ITS had a complete transformation within this space. When they took it on, it was a dark, compartmentalized dated and beaten space. We worked with their team to create a modern open space that oozes their brand. Circles and chevrons where the theme. Incorporating different heights within the open space and hanging acoustic partitions to visually separate areas creates a large open feel with the benefits of privacy. Glass was used here for a transparent seamless look. Curved soft seating and many break out areas both on the main level and the upper level make for a real dynamic, collaborative, flexible space. The glowing tech room was created using rubber flooring on both the walls and flooring. So many fun details in this space, you just can't stop looking around
Treefrog is a marketing agency that searched for years to find a new home for its growing business. They finally found it in a former car dealership that was transformed into a bright, airy space, friendly to function and Frogs alike. Custom millwork creates separation without closing it in and unique light fixtures help keep the bright ideas coming. Their signature green keeps it fresh as their company evolves.
In a space surrounded by views of downtown Toronto, you need to maximize the view and the workspace. Leveraging the character of existing architectural details, we incorporated the angular lines and bright colour of their brand. Acoustic features above the boardroom table and in bright dividers are attractive and functional. From the central lunch room to the privacy of the furniture phone booths, it meets their every need.
The Top 6 must haves for your office space
Here's what we have deemed the top 6 must-haves to increase efficiency, productivity, creativity, collaboration and retention in team members.
What Our Clients Are Saying
"Studio Forma has the unique ability to reach into the nebulous place where function meets beauty, capture excellence and then deliver quickly and on time. Resilient and industrious, they make the impossible happen, repeatedly. They have a way of getting client satisfaction where it looked to be impossible – all the while making sure that they get what they need, not just what they think they want."
— Sean Stephens, CEO, Treefrog