Furniture is a substantial part of any office interior design project: the desks and chairs your employees will live in, the cabinets for storing everything from your most sensitive files to the blank paper for the printers, reception desks, boardroom tables, and more. It all adds up.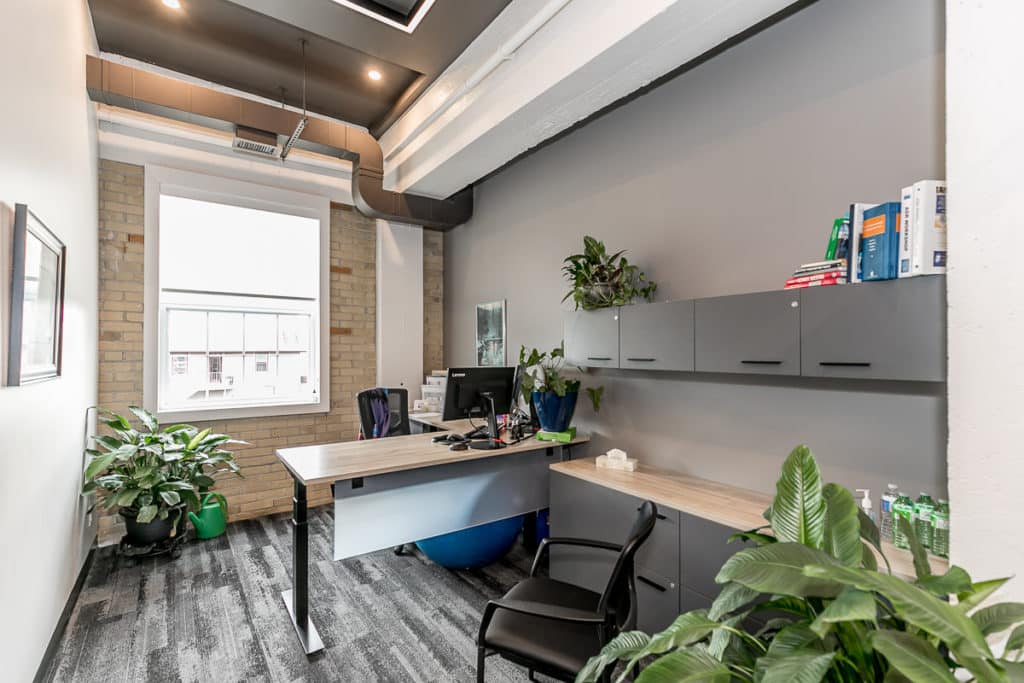 As commercial-focused designers, we recommend ordering contract-grade office furniture. Sometimes the price tag to furnish an entire office can come with some sticker shock for our clients, so we thought it was worth talking about whether or not it's worth it.
Of course we're going to tell you it's worth it, but we do have sound reasons for it, and we want you to understand what they are.
Budget – Part 1 – Longevity
Since this is the major sticking point in the sticker shock, we'll start here. It's true – we can't deny that you will pay more up front, but the real question is, do you want to pay more now for furniture that lasts, or pay more over time to replace furniture that can't stand up to the constant wear and tear of office life?
Sure, that sounds all well and good for us to say, but let us give you an example. We recently had a client reach out to us regarding a broken door on one of their cabinets. It had lasted so long that it wasn't under warranty anymore (see more on warranties below). Even so, they were able to purchase a replacement door for a minimal cost and now that cabinet has years more of useful life ahead of it.
Budget – Part 2 – Smart Choices
Budget is key, so let's talk about it some more. When we design an office, we listen to your needs and optimize the opportunities to use your space to its best potential. We always start with a complete furniture plan, but that doesn't mean you have to agree that every piece is needed. While some components need to work together, office furniture and layouts have moved beyond the standard fixed cubicle. For example, if you're going more and more paperless, maybe not everyone needs a large filing cabinet at their desk. Maybe a small rolling pedestal will do it to give them a place to store their personal stuff. Even within those choices, you can still make the most of every piece. Add a cushioned top to that single-drawer pedestal and you have a spare seat for collaboration.
We also make choices along the way to keep costs down. That seat cushion can be made from any fabric the manufacturer offers, but we generally work with grade one fabrics that are durable but cost-effective. (Did we mention these are available in a wide range of colours to help align your workplace with your visual brand?).
Up to Code
Even though we choose grade one fabrics, you're still getting products that have been tested to meet building codes for workplaces. They're tested for flammability and undergo "rub" and UV tests to ensure long life through durability and fade prevention. Contract-grade furniture is also tested to ensure low VOCs — unlike some budget-friendly residential-focused brands. These Volatile Organic Compounds can release chemicals into our indoor air over time, so keeping them low is important for a healthy workplace.
Up to the Task
We can't talk about contract-grade furniture without talking about task chairs (and chairs in general). This tends to be an item that surprises clients the most in terms of cost. The local office supply store shows cheaper ones in their flyers every week! But consider this: task chairs are also one of the most used (and even abused) items in an office. They spend hours supporting your employees as they work, so they must be durable as well as ergonomic. Contract-grade task chairs are both, and you won't need to replace them half as often.
Customization & Flexibility
We talked about making smart choices to get furniture that will last without blowing your budget. Let's talk about other decisions you can make to manage your budget or make your space custom. Most cabinets come in standard sizes, so if you're watching the budget, you can work with those. On the flip side, if you have a nook or special section that needs precisely fit storage, you can spend a little extra to get it custom-made to your needs.
You can also move beyond standard panel systems, which aren't all that easy to reconfigure. Choosing height-adjustable desks means you're not locked into a given configuration (not to mention the ergonomic and health benefits of being able to stand while you work). When your desks aren't attached to panels and storage units, you can rearrange them to adapt as your business grows without needing help to move and reconfigure everything.
These are just a few ways that we can configure contract-grade furniture to suit any specific workflow realities in your business. It is designed with commercial workspaces in mind, so it takes into account the ideal functionality and durability to survive the rigors of daily use.
A Word on Warranties – and Service
Consumer products might offer you a limited warranty, but it's likely to expire just as your furniture starts to do the same. With contract-grade furniture, there is a solid warranty backed by great service. Depending on the manufacturer and furniture components, you benefit from a warranty that covers you anywhere from 10 years to lifetime. These companies are there to support their product and are very responsive to warranty issues. Plus, our partnerships mean we can work with the suppliers to help you with any rare problem that may pop up over the years.
Ready to talk about investing in some great furniture for your office? Give us a call at 905-252-0947.